ALL-TROUT 2005:  Frostbite Sets In
Little Lakes Valley
Mosquito Flats Trailhead to Chicken Foot Lake

September 8 – 11, 2005
Andrei, Charles, Kevin, Steve
Prologue
[Steve's Journal Entry]
On Thursday, September 8, 2005, four veteran frontiersmen set out to partake in mother nature's glorious offerings:  sights and sounds unavailable to those who would call themselves "city folk."  They hailed from Ventura, Saugus, and the Southern Reaches (San Diego).  This, for better or worse, is their story.

Charles and Kevin were delivered to the Sierras by Andrei in his rather roomy and comfortable Chevy truck.  This writer joined them south of Olancha, and for the second year in a row, tempted fate by leaving his Honda parked next to a motel in a place known as "nowhere."  From there the group traveled north to Lone Pine, where we enjoyed a satisfying breakfast at the High Sierra café.  While in town, we stopped into the ranger station to exchange our reservation for a proper wilderness permit.  Perhaps recognizing me as the Lord of Lone Pine [Walking Trout editorial comment:  the "Lord of Lone Pine" moniker is a reference to the 2002 All-Trout], the lead ranger suddenly ushered six other would-be campers out of the ranger station to await their turn for the "11:00 wilderness permit lottery," leaving only me (my reservation in hand) to be waited upon by no fewer than three rangers.  After securing our permit and a rented bear canister for Andrei, we continued our adventure.  A brief stop in Bishop for some last-minute supplies delivered us to the Mosquito Flats trailhead in the early afternoon, around 2:00.
[Charles' Journal Entry]
Thursday:  As usual we met up with Steve only 5 – 10 minutes apart.  I met Andrei for the first time.  As Steve mentioned during many trips, Andrei does really exist.  It was a good thing… Andrei kept us honest when it came to taking day hikes.
Day 1:  Mosquito Flats to Chicken Foot Lake
[Steve's Journal Entry]
During the ritualistic "packing of the backpacks at the trailhead," my comrades insisted upon taking some of my gear and loading it into their packs, an act for which I was, and am, grateful and humbled.  Their acts were in direct relation to my continued knee recovery, a topic which shall not plague this narrative with its ugly toxins, except as may be necessary.  With my knees coated in a generous slathering of Ketaprofin and bound by neoprene braces, we started up the Little Lakes Valley trail, to our destination of Chicken Foot Lake some 3.5 miles in the offing.

Our trail subjected us to an extremely modest climb of less than 500 vertical feet – unheard of in comparison to the various All-Trout expeditions chronicled in these tombs.  But oh, the beauty!  What the ascent lacks in difficulty it makes up for in beauty – a "tradeoff" this writer would be happy to take any day of the week.  This writer of course is no stranger to this area, having hiked this terrain with his dad, Jerry, and his uncle, Jim (aka "UJ").
My legs delivered me quite uneventfully to Chicken Foot Lake, an occurrence I find difficult to reconcile in view of the moderate pain experienced in the days and weeks leading up to the trip. Credit must be given to the knee braces. My spirits soared as it became certain we would reach our destination and that I would once again be sleeping in the wild. Had I known how cold that night would turn, however, I might not have been so elated. But, being ignorant of the long, cold night ahead, I set about making camp with the others.
We selected the north-western shore for our camp, hand picking our site for its protection from the growing wind. Andrei and I both suffered a serving of "honey lime chicken" by Natural High, a dinner which I consumed only for its warmth and sustenance, but which Andrei rejected after the first bite even in light of those virtues. We were all wearing every possible layer of clothing we'd brought as we closed up our camp and headed into Andrei's tent for cards and tequila.
Andrei's tent was close quarters for the four of us, but the crowded confines brought much-needed warmth. I cannot recall the brand of tequila Andrei brought, but it was authentic (having been acquired in Mexico) and tasty. After most of an hour, Charles and Kevin headed off to their tent, and I went quickly to sleep. Not for long, though. My ultra-light sleeping bag (it stuffs to the size of a volleyball) and my 3/4 length foam sleeping mat, while generally adequate in the ordinary warmth of the Sierran summer, were horribly insufficient. Mine was one of those nights with frequent wakeful interruptions, my slumber routinely broken by extended fits of shivering. Without equal, the longest, coldest, and most miserable night of "sleep" this writer has ever endured; the cold was unbearable.
Day 2: Layover At Chicken Foot Lake, With Dayhikes To Gem Lake And Morgan Pass
Morning came along eventually, and Friday with it. Andrei was kind enough to cover my sleeping body with
his sleeping bag as he exited the tent, a most appreciated gesture given my cold night. The four of us
enjoyed coffee and oatmeal as we huddled in the small circle of sunlight which first penetrated the woods. As
we sat, we contemplated our day's exploration of the Little Lakes Valley. I will leave the narrative to someone
else, stating only that we visited Gem Lake and Morgan Pass on a cold and cloud-covered day, complete with
a (minute) snow fall.
[Andrei's Journal Entry]
As I write, there are more snowflakes falling. We may be in for a dusting or some hail. Read tomorrow's
entry for an answer. I am not cold now, but we know that the sun has fallen and the temperate will plummet
to around 30F. Steve will likely suffer; I hope that I can stay as warm as last night.
Though this area known as Little Lakes Basin is easily accessible, we have Chicken Foot to ourselves. As
noted, our campsite offers an excellent balance between protection, convenience, and view. We scored the
site because no one else is here. And the view of the basin is like many others in the Sierras – remarkable.
Walking the Chicken Foot trail again we were reminded how fortunate we are to enjoy these ruggedly
beautiful lands.
We had a leisurely walk to Gem Lake, passing a few daywalkers and their pets. Gem Lake was quiet and
pristine. We stayed long enough to enjoy a snack and admire the alpine meadow and lake. Charles and I
struck out for Morgan Pass, and after a 500 foot elevation gain and a 2/3 mile jaunt we arrived at the pass.
Easy as it was to cross, it still counted as a named pass. Charles and I then ate cheese and crackers on a
rocky promontory looking down a very desolate valley. Kevin and Steve made it to the pass a few minutes
later, then rushed back to Chicken Foot Lake. On our walk back down, Charles and I snapped a few
pictures/videos and thoroughly enjoyed the scenery.
The (Desolate) View Through Morgan Pass
Steve had the most fishing action our first full day. He even caught a malnourished trout which he refused to
eat. So we did not eat fish for dinner, but today's beef stroganoff earned a solid "B" (rounding up from grades
of "B" and "B-"). Kevin and Charles again produced a culinary masterpiece – fettuccini alfredo. Brownies
rounded out this delicious meal.

[Walking Trout editorial comment: In the late afternoon, we walked to the top of the bluff behind our campsite,
where these next few photos were taken.]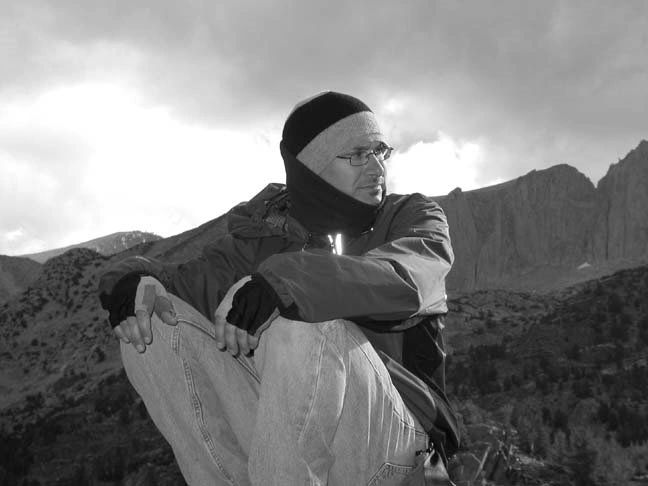 [Kevin's Journal Entry]
Friday: Lunch at the top of Morgan Pass was the highlight of the day, followed by catching a few fish at
camp.
[Steve's Journal Entry]
Andrei claimed to be a poker novice, but he had no problem denuding the rest of us from our pine needles
(the only acceptable form of currency at the Chicken Foot Lake Casino). The game was played in Andrei's
tent, complete with tequila and limes, and blackberry brandy. This writer was particularly pleased that the
poker game was hosted in our tent, as the extra warmth generated by four bodies in one tent was a scarce
commodity.
Day 3: The Climb to Treasure Lakes, And The (Early) Hike Back To Civilization
The cold last night was severe and, but for a few brief respites, interminable. Even during the day we (or at
least this writer) wore every stitch of clothing we'd brought. It's all about the layers, they say. That said,
Friday night was not as much a trial as was Thursday night, as Andrei was kind enough to let me use his fulllength,
insulated sleeping mat.
As the four of us bushwhacked towards Treasure Lakes, we all agreed the pristine landscape was a beauty,
and we allowed our senses to indulge. Along the way, Kevin and I decided to "bag the peak" of the rocky
promontory which guards Treasure Lakes. Charles and Andrei decided to press on, descending to the valley
created by the runoff from Treasure Lakes, ultimately to climb up that drainage to reach the lakes, and then
descend down to Gem Lake before returning to camp. (After completing the circuit, Charles and Andrei
report that the better approach to Treasure Lakes is via Gem Lake.)
As for Kevin and me, higher and higher we climbed. We failed to reach the summit, but we enjoyed a
spectacular view of the Little Lakes Valley. Long Lake, Chicken Foot Lake, and one other lake (perhaps Box
Lake or Heart lake) were in our view.
View of Little Lakes Valley
We at lunch at this scenic vantage point, and then tried, unsuccessfully, to return the way we'd come. The walking gave way to climbing some very difficult terrain on the way down. I was more than a little uncertain at some points, but there is no uncertainty that our wives would have disapproved. Kevin was an excellent guide during the descent, and I credit him with our safe return down the mountain. The view was incredible.
[Kevin's Journal Entry]
Saturday: climb… climb… climb… follow Andrei…. climb… scary rock descent. I'm still alive and body
functions still work. Nightmares of skinny fish will most likely continue for weeks. The final descent was very
enjoyable. Overall, Saturday proved to be the best day of trip.
[Steve's Journal Entry]
The cold drove us from the mountains a little ahead of schedule. While the days were bearable, the nights
were not. After returning from our exploration of Little Lakes Valley (and Charles' and Andrei's return from
Treasure Lakes), we decided, unanimously (which includes Charles despite his expected assertions to the
contrary), to hike back to civilization that afternoon. Our reasoning was that by truncating our stay that
afternoon, we would miss only 1) preparing dinner in the cold, 2) sleeping in the cold, and 3) preparing
breakfast in the cold.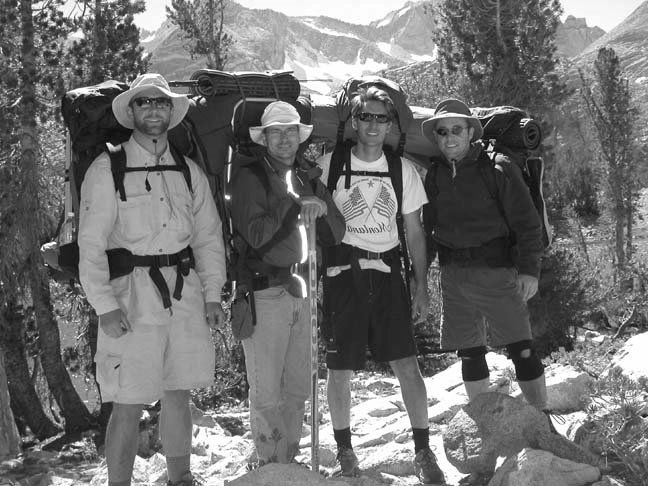 The hike down in the late afternoon was joyous. We were warm, most of all. We headed to Bishop, again in
the comfort of Andrei's truck, in search of lodging. We ended up at the semi-luxurious Creekside Inn (a Best
Western property). After showers and some cold beer produced by Andrei from a nearby gas station, we
went to the Pizza Factory for a pie as good as the world-renowned Pizza Factory in Lone Pine. From there it
was a quick walk back to the Creekside, where we further warmed our bones in a Jacuzzi and enjoyed more
ale from the gas station.
After the hot tub, Kevin, Charles and I decided to try our luck at blackjack at the Piute Palace Indian casino.
Andrei opted for much-needed sleep – a wise decision. The three gamblers procured a ride to the casino
from our hotel clerk, whose shift was ending. We gambled for no more than an hour, with the final tally as
written: the Lord of Lone Pine, up $126; Kevin, up $20; Charles, down an unspecified amount. We conjured
up a ride back to the hotel from a "friend of the pit boss," a very kind fellow to deliver us home.
Day 4: The Journey Home
Morning saw us have breakfast at "Jack's" in Bishop, where this writer was pleased with his meal of 2 eggs, 2
pork chops, hash browns, coffee, orange juice, and biscuits and gravy. Yes, the decision to avoid having
oatmeal as we huddled around the camp stove in search of warmth, slowly migrating with the shifting spots of
sunlight as they appeared, was a good one. After the obligatory stop at Schat's bakery, we were headed
home. My car was found unscathed at the Ranch Motel.

Until next year, fellows.
[Kevin's Journal Entry]
. . . Finally, after blowing off Charles' camping invites since our 1999 Whitney trip, I relented and agreed to do
the Eastern Sierra hike. I'm very happy to report that my can of bear Mace remains unused. We saw no
threatening wildlife… that is, except for the large-headed skinny-body fish. Something was really wrong
there.
The trip was great, a welcome break from the toils of everyday life. I especially liked the day hikes and the
impromptu rock climbing… I'm really glad Steve didn't fall because I just can't handle that kind of guilt.
The end of the trip was the best… beer, pizza, Jacuzzi, blackjack at the casino… and a soft bed.
One note about the weather… never camp in September… too late in the season… it was cold.
… sure, I'll do it again – next time with a full-length sleeping pad. Hopefully it won't be another 6 years before
I can find time for it, though.