ALL-TROUT 2009:  Across the Snowfields

Deer Lake:
Gianelli/Burst Rock Trailhead to Deer Lake to Crabtree Trailhead

June 25 – 28, 2009
Andrei, Charles, Kevin, Steve
Prologue

Our original plan was to hike out of Saddlebag Lake, but a few days before our departure we learned the access road to the lake was closed due to snow, and that most of the trails in the area were snowbound.  We started setting our sights on lower elevations, and ended up selecting a West-sided trip through Emigrant Wilderness.  We gambled that the relatively lower elevation would make the trail accessible.  We were partly correct.

No log was kept for this trip – the events of the trip didn't allow for it.  Here are a few notes made after our return: 

Day 1:  Gianelli/Burst Rock Trailhead to Powell Lake (2.3 miles)

After a long drive from Valencia in Charles' car, listening to the "Walking Trout Parade" CD collection prepared by Teresa, we made a late-afternoon departure from Gianelli/Burst Rock trailhead.
SO THERE'S A LITTLE SNOW AT THE TRAILHEAD… HOW BAD COULD IT BE?
KEVIN FINDS A FIVE-FOOT STRETCH OF TRAIL AND CLAIMS IT AS HIS OWN
THE TRAIL IS FOUND, AND WE ARE REWARDED WITH BEAUTIFUL VIEWS
THE GROUP INVADES STEVE'S PROPRIETARY BLEND OF TRAIL MIX
[NEED TO GET THE NAME OF THIS FORMATION, WHICH CLEARLY IS AN ANCIENT CASTLE]
The afternoon's hike was only 2.3 miles, but it took some time because we kept losing the trail in the snow. If only we knew how many times that would keep happening. We decided to stop at Powell Lake, which was smallish but very pretty.
ALONG THE SHORE OF POWELL LAKE
We made camp at Powell Lake and discovered that Andrei's water filter was not going to be complaint during the trip – which is a nice way of saying that it pumped VERY slowly and required repeated disassembly and reassembly, which Andrei was happy to undertake.
Day 2: Powell Lake to Salt Lick Meadow (5.8 miles)
We woke and departed early, with the hope of reaching Deer Lake, some 9.9 miles away, for a two-night layover. The snowcover was much worse than expected, adding considerable time and effort as we crossed (and fell down on) snowfields, spent time bushwacking through the wilderness using map and compass as we tried to find the trail hidden under the snow, and tried to find ways around streams that were swollen over their banks due to the excess earlyseason water. These obstacles made it an interesting and exciting hike, but also a difficult one. We made it only as far as Salt Lick Meadow, covering a "mere" 5.8 miles for the day.
POWELL LAKE IN THE EARLY MORNING
STILL POWELL LAKE, STILL EARLY MORNING
Forgetting the arduous three-mile trek, the boys abandoned their backpacks and raced toward one of the lake islands. They set off to stake their first claim, declaring the island as their own. We had arrived. Jim and I watched as the boys scrambled across a bridge constructed of a loosely positioned logs. Their enthusiasm brought us a great sense of relief and satisfaction. The basin contained two lakes in our immediate area and was surrounded by several 12,000- 13,000 foot peaks. Continuing west, a visible and audible drainage trickled down toward the lakes. It was gong to be a great couple of days.
Leaving the boys to their island, we set about the business of locating a campsite before breaking out lunch, which included tuna fish sandwiches, salami and Gruyere cheese. It did not take long; we located a campsite between the two lakes. Each lake could be reached from our campsite by an approximate 50-yard walk.
We had lunch near this stream (see picture below), which feeds to the South Fork Stanislaus River. Lunch was accompanied by some fine red wine (first time the "red stuff" made it on a Walking Trout venture), which was a "perfect pairing" with the nature around us (but not with the canned sardines).
THE WATER FILTER PUMPS 1 LITER PER HOUR
SNOWFIELD NO. 72-9. THE THREE BACKPACKERS TO THE RIGHT (OUR GROUP) SHOW THE SCALE
Some of the snowfield crossings were rather expansive (as above). With the trail completely lost, it was difficult to determine where on the other side of the snowfiled we should start looking for the trail. On one of these crossings, we were lucky enough to see some backpackers returning from the Deer Lake area. Our group headed towards their group, and their group headed towards our group. After we met in the middle of the snowfield, we exchanged news of what lay ahead, and then followed eachother's footprints to find the trails we were looking for. It worked out nicely for both parties.
PICKING A ROUTE ALONG WHITESIDES MEADOW
"HELP, I'VE FALLEN AND I CAN'T GET UP" (A BEMUSED ANDREI WHIPS OUT HIS CAMERA)
Just beyond Whitesides Meadow, we completely lost the trail and had to resort to navigation by map and compass. We spent probably an hour exploring the various canyons that lead out of Whitesides Meadow in order to make sure we were taking the correct route. This part of the hike, although difficult, is a highlight for this writer. We were in a thick forest, clearly not on any trail or anything resembling a trail, and it was steep terrain. The going was tough and we were all taking deep breaths as we fought our way through the terrain. The ground was completely snow-covered, and our feet would sometimes punch through the snow. On one occasion, this writer's foot punched through the snow and was deposited into a running stream below the icy snow. All I could do was look down at my leg disappearing into the snow, with the cold water entering my boot and the sound of the running water suddenly audible, and smile at my good fortunte to be in such a beautiful place (I might have also muttered something inappropriate). In any case, we were all pleased (and relieved) when we finally descended to XXX meadow and we knew we had taken the correct route.
TRYING TO FIND THE TRAIL LEAVING WHITESIDES MEADOW
These pictures (above and below) are examples of a meadow-crossing that should have taken but a few minutes, but ended up taking considerably longer due to the swollen stream blocking the trail. The crossings weren't impassable, of course, but we would have to take time deciding whether to take off our gear and wade across the icy water, or search both "upstream" and "downstream" for a better crossing place. At this particular crossing, we ended up finging a place to jump across, which itself was not uneventful as this writer almost fell back into the water.
CHARLES CONSIDERS THE OPTIONS
We reached the far side of Salt Lick Meadow just as the clouds grew ominous. We felt a few raindrops and saw lightning striking beyond the far edge of the meadow. We hurriedly found a camp site, selected for its apparent ability to protect us from the coming storm, and set up our tents. The storm never did eventuate, and instead we were treated to an early respite from our hike. But for the storm, we would have pressed on towards Deer Lake, but with camp set up and our packs off our backs, we decided to enjoy the late afternoon. We built a fire to dry our wet boots, and the tequila, chilled in a nearby snowpatch, made an appearance. In all, it was a perfect end to the day of snow-hiking, and a well deserved rest.
I HAVE NO IDEA WHAT STORY WAS BEING TOLD – PERHAPS THE TIN MAN FROM THE WIZARD OF OZ?
Day 3: Salt Lick Meadow to Unnamed Ridge Between Piute Lake and Piute Meadow
(7.5 miles)
Our third hiking day ended up being a long one. We'd intended to stay at Deer Lake for two nights, but that was reduced to one (potential) night due to our slow going. As it turned out, we decided to forego even one night there and forge past Deer Lake in order to set up a shorter hike for our exit, not knowing how difficult the snow-hiking would continue. (It turned out our snow-hiking days were behind us.) We started out ascending from Salt Lick Meadow towards Deer Lake. As seen in this photo, the snow persisted:
CHARLES SHOWS OFF A VERY NICE PIECE OF TRAIL – AT LEAST 20 SQUARE FEET OF IT
A comment about snow-hiking. On a "usual" (non-snow) hike, it is nice to take the lead… so as to avoid eating the trail dust kicked up by the hikers in front of you. Taking the lead on a snow hike is a little more stressful. The leader has to search around for the trail, happily announcing whenever a bit of trail is discovered, so that the group would be assured we were headed in the right direction. When no smattering of trail was found for a period of time, however, the leader (and the rest of the group) would start to wonder whether we were headed in the right direction.
IS IT A MEADOW? A LAKE? A STREAM? WHATEVER IT IS, WE HAVE TO CROSS IT
MAYBE WE COULD BUILD A BOAT?
KEVIN AND CHARLES DISCUSS THE CROSSING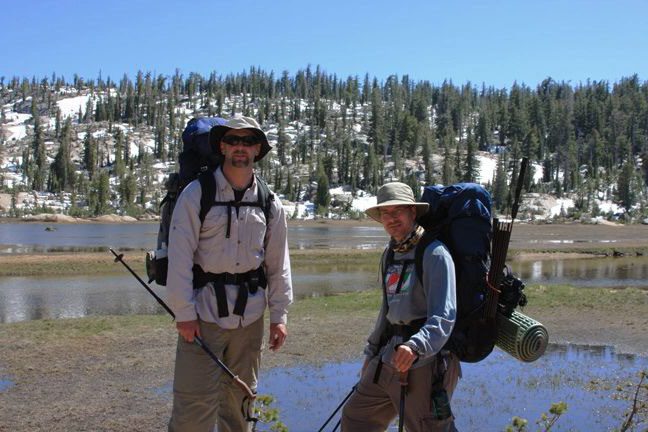 A brief comment about trekking poles. This writer brought trekking poles for the first time, as recommended by his orthopedist as "taking 30% of the weight of your pack off of your knees." This writer felt there was no need to bring the little cup that goes at the end of the pole (see Charles' pole, above). The result is that the cupless trekking poles would frequently bury themselves deeply into the snow, and occasionally get themselves stuck (the cup of course being designed to prevent that from happening).
UNNAMED LAKE NEAR DEER LAKE
This pretty little lake (above) made for a nice resting point as we prepared our descent to Deer Lake. The mosquitoes began to get thick – we complained, irratably, but we had no idea what we were up against. One thing for sure is that this area near Deer Lake (as well as Deer Lake itself) is impossibly beautiful. The forest is thick and the stream cascades over large stone surfaces. Walt Disney's imagineers could not do a better job. These pictures don't do the landscape justice, but this area is a real privilege to walk though.
DESCENT TO DEER LAKE 2: "LET'S ALL GET ON THE LOG AT THE SAME TIME"
DESCENT TO DEER LAKE 3: NOW

THIS

IS A STREAM I CAN CROSS
DESCENT TO DEER LAKE 4: STEVE POSES FOR A PICTURE
DESCENT TO DEER LAKE 5: ANDREI SELF PHOTO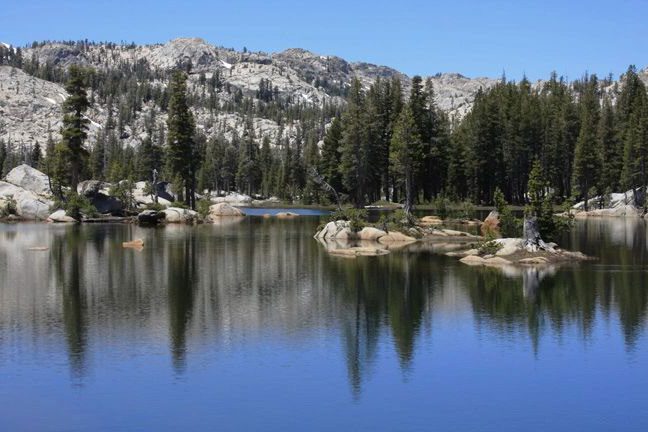 We had a very nice lunch (with the last of the wine) on the shore of Deer Lake. Although the scenery was perfection
and the food was good, we were troubled more and more by the mosquitoes. This writer is not ashamed to admit that the bugs were so thick that he started to develop some kind of mosquito madness, his not insignificant backwoods
experience notwithstanding. Sadly, we decided to leave Deer Lake behind (without so much as a night's stay) and
position ourselves closer to the trail's end, to avoid a long, snow-covered hike over the next few days (it turned out
there wasn't any more snow for the rest of our journey, and that we should have stayed at Deer Lake…). On our way
out, we saw a pool of more than 10 nice-sized native trout in the lake's outlet, but we decided to stow our fishing poles
and continue hiking, saving our fishing endeavors for Gem Lake.

Our hike to Gem Lake showed us numerous massive rock formations like the one below. We lost a lot of altitude and
the weather warmed significantly. The mosquitoes apparently appreciated both, as they were out in force. The wet
weather of early summer in the western Sierras almost assures the vile creatures will abound, and we bore the brunt of it. It's hard to describe and appreciate, in the indoor life of air-conditioned civilization, just how bad the nasty devils can get. Stopping to rest for even a moment along the trail assured that you would become beset with the scurvy dogs, at the ready to inject their venom in exchange for blood via any part of your skin left exposed.
We were going to camp here at Gem Lake, and even tried a little fishing (with no success). The bugs were so severe that we had on long-sleeves, hats, and bug masks, which made us uncomfortably warm in the pleasant afternoon sun. We ultimately were driven away and decided to pick up our bags (once again) and keep hiking. Our plan was to stop at Piute Lake, but it was extremely buggy as well. We continued hiking into the evening, hoping that if we stopped nowhere near a lake, we might get a break from the bugs. We ended up stopping, out of fatigue and for lack of a better plan, at an unnamed ridge between Piute Lake and Piute Meadow, and were immediately attacked by mosquitoes. Having already logged over 7 miles, we (and the bugs) camped for the night. The bugs were so intense that we all climbed into one of the tents and ate our mini-dinner there, bear etiquette be damned. The West Cherry Creek was running high. Very high. As we stopped to look at yet another stream crossing our path, we were once again consumed, literally and figuratively, by mosquitoes. A quick glance upstream and downstream made it clear that there would be no way to cross this creek (wich was more like a stream, but not quite a river) without getting wet. Charles, without hesitation, took off his pack and his pants, and began preparing to wade across. We all followed suit, taking off various amounts of clothing and hoisting our backs and boots over our shoulders.
WEST CHERRY CREEK CROSSING (CENSORED)
SWIMMING SNAKES AND WINGED DEVILS
The above photo was supposed to depict a snake we saw traveling across Piute Lake (where we had planned to camp for the night but were afraid to stop on account of the blanket of mosquitoes). Instead of being a picture of a snake, however, it turns out this is a picture of 34 mosquitoes, and is a good indication of how thick they were. Imagine, if the mosquitoes were that thick over the lake's suface, just how many of them were swarming our C02-producing bodies.
DAY 4: Unnamed Ridge to Crabtree Trail Head (7.6 miles)
In an (unsuccessful) effort to pack up the camp in the early morning before the bugs were out in force, we hit the trail by 6:45. Mosquitoes, it turns out, wake up much earlier than that. After leaving our unnamed ridge and heading down the mountain, we had the option of staying another night in the woods at Camp Lake, which would have left us with an easy walk out on Sunday. Dreading another night of the mosquitoes' bane, however, we opted to conclude the hike a day early and instead avoid the mosquitoes at Pinecrest Lake campground (in "civilization") for a last night of beer and barbeque. These last few pictures show the rest of the hike down to Crabtree Trailhead. The landscape was awesome, and was a reminder that Emigrant Wilderness isn't too far from Yosemite.
KEVIN CONTEMPLATES HIS NEXT MOVE
UNNAMED LAKE WITH REAL LIVE LILLY PADS (BUT NO FROGS)
TAP TAP TAP GO STEVE'S TREKKING POLES ON THE ROCK – CHARLES IS NOT AMUSED (NEXT YEAR STEVE WILL PACK THE RUBBER TIPS AND THE SNOW CUPS)
About a mile from the trailhead, we met Sandy and her daughter Savannah, who were making their way towards Crabtree Trailhead but inadvertantly were headed in the wrong direction. We helped guide them to Crabtree, where we were rewarded not only with some tasty all-natural candies, but also with a car ride from Crabtree Trailhead to Ginaelli/Burst Rock Trailhead, where our car was waiting. Charles had been planning to ride his mountain bike from Crabtree to Gianelli/Burst Rock (4 miles) to fetch the car, but Sandy's offer for a car ride simply could not be refused, and we are all grateful for her kindness.
JOURNEY'S END AT CRABTREE TRAILHEAD