ALL-TROUT 2011:  The Elusive Glacier 

Big Pine Creek – North Fork:
Big Pine Creek Trailhead to Sixth Lake
(and Points Intermediate) 

September 22 – 25, 2011
Andrei, Charles, Steve
Prologue

A short log was kept during this trip, and those words appear below.  This prologue, written some six months later, includes some additional thoughts not referenced in the original log.  First, this area is spectacular.  Amazing.  The photos simply do not do this trip justice.   

This trip involved some high technology.  Andrei and Charles each carried an iPhone, not for the non-existent cell coverage, but for use primarily as cameras (which resulted, for better or for worse, in more photos of this writer).  While certainly not a necessity, the phones did provide for some interesting diversion in the form of the SkyView star chart and a time-lapse video app (both courtesy of Charles).  The iPhones have brought us, for the first time, some video clips included on the site below. 

It is worth mentioning briefly that the folks who named the features of this terrain didn't have much imagination.  The lakes are named, in order of apperance, "First Lake," "Second Lake," "Third Lake," etc.  The falls are named "First Falls" and "Second Falls."  The south fork of the creek is named "South Fork," and the north fork of the creek is named the "North Fork."  Just wanted to point this out, so that anyone reading this log doesn't incorrectly assume that this writer used the terms First Lake, Second Lake, etc., as a matter of convenience. 

Day 0:  The Pre-Trip

Charles met this writer at Rock Creek, where this writer had spent a long weekend fishing with his dad (to whom he is forever indebted for instilling in him an appreciation of the Sierras), his Uncle Jim ("UJ") and cousin Jim.  After a brief visit at Rock Creek, it was a short drive down to Big Pine for dinner at Rossi's, which had been on this writer's to-do list for a long, long time.  A steak and pasta restaurant where everything is home made, including the breads and salad dressings, and where the salad forks are chilled (that's a nice touch).  Andrei arrived just as we finished our meal, and we made the trek in the pitch of darkness (in three separate cars, sadly) to the campground at Big Pine Creek.     

Once at Big Pine Creek, we set up a palace of a tent (compared to the ultra-light backpacking tent we would be taking with us on the hike), and discussed the upcoming trip over some Stellas.  One final comment before turning this over to the official trip log, is that this writer remembers being excited about having a vast expanse of room inside the tent – something we never experience on the trail.  Compared to our trail tent, this tent was the Taj Majal.  I was giddily looking forward to the relative comfort of not having a companion's foot in my face, or being pressed against the side of an over-crowded tent, and of being able to to stand up inside the tent.  It was like being in a hotel.  That is, until this writer absent-mindedly forgot to secure the lid on his completely full one-liter bottle of water, and let it spill as he exited the tent to get something from the car.  Upon his return, he found his spacious, deluxe, five-star hotel to be a lake.  The water managed to find its way into his pillow (a real, live pillow, brought just for this one night), his sleeping bag, his liner, his mat…  everywhere.  A liter is, when measured against bedding, a large quantity of water. The Stellas helped dull the sudden sense of loss of the "perfect" accommodations, and a good night of sleep was had by all.
Day 1: Big Pine Creek Trailhead to First Lake (5.6 miles, 2100 vertical feet, 5 hours)
THE LUXURY ACCOMMODATIONS AT BIG PINE CREEK CAMPGROUND
Despite camping within a mile of the trailhead, it was still noon before we hit the trail – not the best of planning where the first portion of the climb is fully exposed to the sun.
USELESS TRIVIA: THIS IS THE ONLY PICTURE FEATURING ALL THREE OF US
After a mile's climb in the exposed sun, we came to our first forested area near First Falls. The wide "trail" to the left in the above photo used to be a road. Back in the 1980's, this portion of the hike was accessible by car, but a flood took out the road and it was never reopened.
BELOW SECOND FALLS, WHERE THE TRUE FUN BEGINS
At this precise moment, looking up at the trees which stand almost as sentinels guarding the landscape beyond, we had no idea how really, really cool this hike was going to be.
A PORTION OF SECOND FALLS
A REST ALONG SECOND FALLS. LOOK – AN iPHONE!
WE BROKE FOR LUNCH JUST ABOVE SECOND FALLS – COULDN'T HAVE BEEN MORE IDEAL
This is very near the area where Charles dropped Steve's water bottle into the creek, and then dropped himself into the creek (completely soaking his NEW boots in the process). The bottle would have been lost forever, had Andrei not spotted it circling in a pool below – a visual feat that this writer still finds difficult to understand. Andrei said something to the effect of "there it is" and then casually walked no less than 40 paces through some foliage and downstream to the next pool below, and plucked the bottle from a position invisible to Steve and Charles. Why was Charles using my water bottle, you ask? Well, as discussed in more detail below, Charles bought a surprising amount of new gear prior to this trip. To use his words, he had that "new gear smell" about him. One of his new acquisitions was a new water bottle with a narrow mouth which, unfortunately, would not work with Andrei's water purifier (which requires a widemouth bottle). Unfortunately for Charles, this was not the only piece of his new gear that didn't live up to expectations – and we had more than a little fun at Charles' expense, commenting on each of a seemingly endless series of appearances of new gear.
IT IS DIFFICULT TO SEE IN THIS PICTURE THAT CHARLES' (NEW) BOOTS ARE SOAKED
In this area of the trail, named Cienega Mirth, the usual pine trees give way to a forest of aspen. This, in combination with lack of any vertical gain, makes this a very pleasant portion of the walk.
This cabin was built by Lon Chaney, Jr., in the 1920's. Although the picture doesn't show it, the creek bends in a nice arc in front of the cabin, and one can easily imagine Lon walking 30 feet to a private reserve of fresh trout (we saw plenty of trout in the stream, although none of us brought fishing gear on this trip). The picture also doesn't show how massive the cabin really is. The cabin is boarded up now and is the property of the USFS, but hikers are allowed (if not required) to take a rest on the porch and to daydream about what it must have been like to live in a cabin in as beautiful a location as this.
OUR FIRST VIEWS OF FIRST LAKE
The scenery kept getting more and more spectacular with each step we took, and First Lake was no exception. We were all impressed – a real gem. It's twin sister, Second Lake, was clearly the lake never invited to the dance. Second lake is pretty in its own right, and has the Temple Crag as quite an impressive backdrop, but it is no match for the spectacle of First Lake. We dropped our packs at one of the many nice campsites on the west side of the lake, just between First Lake and Second Lake. We walked to a bluff between the two lakes, just atop an impressive falls that feeds First Lake from Second Lake. There we celebrated with some tequila our good fortune of witnessing a beautiful sunset from First Lake.
THE BLUFF AND THE FALLS AND ANDREI, WITH FIRST LAKE IN THE BACKGROUND
RESTING AT THE BLUFF – WELL DESERVED AFTER THE 5-HOUR, 5.6 MILE HIKE
ANOTHER PICTURE AT THE BLUFF – CAN YOU TELL WE ENJOYED IT? NOTE THE COLOR OF FIRST LAKE,DUE TO THE SILT IN ITS GLACIAL-FED WATERS
CROSSING THE MAKESHIFT BRIDGE, WITH SECOND LAKE IN THE BACKGROUND
This little bridge appears to be made out of leftover mining materials. This writer carefully tested the bridge by having his friends walk across it first. Once we were safely back at camp, we began the ritual of making, eating, and grading the freeze dried food we'd brought with us. That night's meal featured Tomato Chipotle Pasta With Chicken by Backpacker's Pantry, which rated an 8.5. It didn't blow our socks off, but it was good. We also had Beef and Broccoli Stir Fry by Backpacker's Pantry, which we gave only a 7. We later read the directions (always a good idea to read them AFTER eating the meal), and discovered we should have left it in the pouch longer, which would have softened the rice and improved the grade. So perhaps the 7 is a bit unfair.
After dinner, we discussed all of the new gear brought along by Charles, aka "the Walking Sporting Goods Store." The list includes a backpack, boots, sleeping bag, sleeping mat, water bottle (narrow mouthed), coffee mug, cook stove, pot, and even a new line of underwear.
APPARENTLY THIS IS WHAT IT LOOKS LIKE WHEN THIS WRITER ADDS TO THE LOG IN THE EVENINGS
OUR CAMP ABOVE FIRST LAKE (ALTERNATIVELY ENTITLED, "OUR CAMP BELOW SECOND LAKE")
A VIEW OF SECOND LAKE AND THE AMAZING TEMPLE CRAG
The enormous 13,000 foot temple Crag is an amazing backdrop not only to Second Lake, but to much of the valley. We saw the Temple Crag from many angles as we continued up to Sixth Lake, and saw it up-close-and-personal as we attempted to reach the Palisades Glacier. Its size is unbelievable and its presence is mesmerizing and perhaps even hypnotic. It doesn't surprise me at all that many rock climbers are called to it.
ONE LAST PHOTO OF THE BLUFF OVER FIRST LAKE AS WE PREPARED TO LEAVE IN THE MORNING
LOOKING BACK AT FIRST LAKE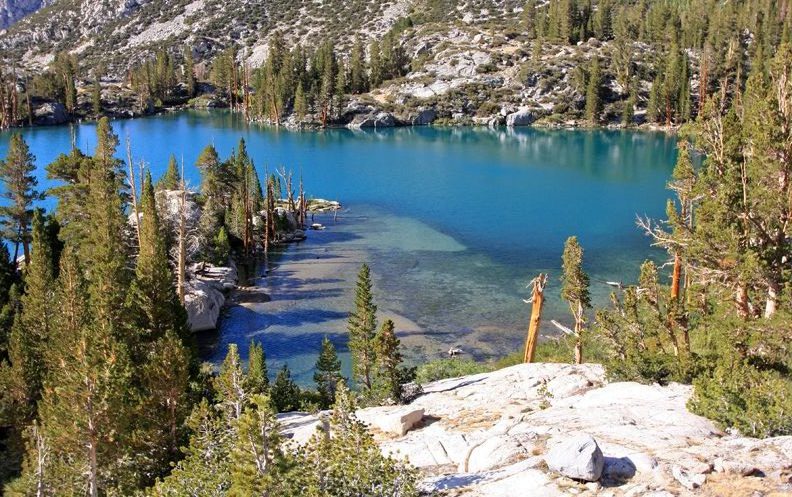 Day 2: First Lake to Fifth Lake (2.3 miles, 1 hour 45 minutes)
This was a relatively easy and short hike. We intended to stay at Fourth Lake, but after a short visit at its picturesque waters, we ended up bushwhacking (on a well-marked trail) to Fifth Lake to some spots Andrei had scouted out for us (which is usually the case). We selected a nice site we thought would give us some protection from the anticipated weather. The best feature of the site was the immaculate view from a perch above Fifth Lake. The perch was surrounded by a short wall of stones (perfect for cooking and sitting), and offered a picture-perfect view of Fifth Lake and the entire cirque of peaks: Two Eagle Peak at 12,966 feet, Aperture Peak at 13,265 feet, Mt. Robinson at 12,967 feet, and of course the Palisades. You will be hard pressed to sit in a more beautiful spot.
ABOVE SECOND LAKE AND ON OUR WAY TO… THIRD LAKE
EN ROUTE (PARDON MY FRENCH)
After setting up camp and having lunch at our perch, we left our packs behind and set off for a late-afternoon walk to Sixth Lake. Including a stop for sardines and a toast, the jaunt was 3 hours and covered 3 miles round trip. Along the way we looked back at the Palisades, as seen in this next photo. The Palisades Glacier at the foot of those peaks was our intended destination the following day.
THE PALISADES AS SEEN FROM THE TRAIL TOWARDS SIXTH LAKE
MT. ROBINSON IN THE FOREGROUND, THE PALISADES IN THE BACKGROUND
THIS WAS AS CLOSE AS WE GOT TO SIXTH LAKE
Charles and Andrei wanted to hike down to Sixth Lake and follow its drainage (to the left in the above picture) back to Fifth Lake in an off-trail bushwhacking adventure. Given the steepness of the route (per our topo map) and the relatively late hour (5:00ish) this writer had to be the Voice of Reason and suggest a return by our marked trail (i.e., back the way we had come). We did lose the adventure and romance of an off-trail hike, but we also returned to camp without a hassle and without injury, and there is something to be said for that. Once back at our Fifth Lake camp, we visited our fish pond, a beautiful pool along the creek below the outlet of the lake. There we watched native trout rising as we refilled our bottles.
STEVE, WHO IS LUCKY TO BE IN POSSESSION OF HIS (WIDE MOUTH) WATER BOTTLE, USES ANDREI'S MIRACLE WATER PURIFIER
CHARLES AND STEVE AT "THE PERCH"
This photo shows our perch, but does not show the 360 degree view we enjoyed while eating, having coffee, toasting our good fortune, convalescing, etc. It also shows, quite clearly, that Charles forgot to bring camp sandals. Both dinner entrees were by Mountain House. The Mexican Style Rice & Chicken did not tickle Andrei's fancy and got an overall score of 7. The Chicken Teriyaki was a bright spot and scored an 8. After dinner, we stargazed at an amazing display of stars (and satellites), but then the clouds began to blot out the stars. We started seeing lightning in the sky beyond Mt. Robinson. The flashes were relentless, occurring every three to ten seconds for a solid 45 minutes (no exaggeration as to frequency or duration). The electrical storm must have been centered far away, because we never heard thunder despite the impressive light show. Even in the absence of thunder peals, the thickening clouds overhead were not comforting to us. We did some last minute battening of the hatches before bedtime, just in case the storm was headed in our direction. We added lines to the side of the rainfly, and stowed our gear underneath trees and rocks. Backpacks were covered with trash bags. After everything was secure to our satisfaction, we climbed into the tent to wait it out. Rain did come in the wee hours, although this writer did not wake for it. Charles and Andrei reported that it didn't last long.
Day 3: Day Hike to Sam Mack Meadow and Attempted Ascent (twice) to Palisade Glacier (6.5 miles, 2000 vertical feet, 7 hours – including rain/snow/hail/lightning delays)
This was an epic and memorable day hike. After a leisurely breakfast high atop our perch above Fifth Lake, we set out around 10:00 for a day hike to the Palisade Glacier, which is the largest glacier in the Sierra Nevadas and is the southernmost glacier in the United States. We set out under cloudy skies and rain seemed probable. This writer had realized early on in the trip that he'd forgotten his rain jacket, but after having to admit forgetting one item or another on previous trips, he waited to the last minute before telling his comrades. That last minute came on the way to Sam Mack Meadow, when the rain finally started falling. As Charles and Andrei pulled out their rain gear, this writer confessed he had forgotten his rain shell, and pulled out a black trash bag to use instead. Trash bags make great rain jackets if you tear out holes for your head and your arms (a trick taught to this writer by his Uncle Bob during an Eastern Sierra pack in trip in 1977, but that's a story for another day). Not unexpectedly, both Charles and Andrei whipped out their iPhones to capture the moment.
FILLING THE WATER BOTTLES AT OUR PRIVATE FISH POOL PRIOR TO THE EPIC DAY HIKE
PLASTIC IS THE NEW GORE-TEX
The hike up to Sam Mack meadow was fun. We were in and out of trees and over some rocky areas for a pretty and steady climb. The rain was intermittent and it stopped altogether just before we reached Sam Mack Meadow. Apparently the respite was the calm before the storm.
THE RAIN LETS UP JUST BEFORE WE REACHED SAM MACK MEADOW
Just as we reached the meadow (minutes after the above photo was taken), the rain returned, and brought its friends "hail," "snow" and "wind" along for good measure. By the time we crossed the stream that runs through Sam Mack Meadow, hail was blowing sideways along the basin. Just to add to the excitement, this writer slipped on a wet stone and soaked a boot in the stream (it is always good to get your feet wet when you are in the middle of a snow storm and you don't have your rain jacket with you). The trash bag was donned again, and off we went towards the Palisade Glacier in weather that alternated regularly between rain, snow and hail.
SAM MACK MEADOW – YET ANOTHER IMAGE THAT DOESN'T DO JUSTICE TO THE LANDSCAPE
The trail from Sam Mack Meadow towards the Palisade Glacier was really… neat. It was a steady climb for sure, but it was interesting in the way it wound up from the meadow, in and out of the trees. At every turn there was a stunning view… be it the Temple Crag (up close and personal), the Palisades, the valley heading back to Big Pine, and First, Second and Third Lakes. Although it is hard to put into words, there was something about this trail that kept drawing this writer further and further up the mountain – it had quite a lure.
GETTING CLOSER TO THE PALISADES
THE FOREGROUND, AND THE SIDE OF TEMPLE CRAG IN THE BACKGROUND
100% WATERPROOF FOR LESS THAN $1. AND IT IS CLEARLY FASHIONABLE.
After we had climbed about 800 feet, the storm really gained some momentum, most notably in the form of lightning. It is hard to describe the sound that a thunder clap makes when one is standing in a basin of stone peaks, far above the tree line. The volume, duration, and reverberation of the thunder combined to give us witness to the power of Mother Nature, and were an indication of just how close we were to the lightning. The sound was truly bone chilling, particularly where we had very few options in the way of shelter (i.e., none). There were some very small, stunted tree/shrubs (no more than four feet tall), but every sixth or seventh of them was a charred remain from some prior lightning strike, which of course gave us no comfort whatsoever. We were, in a word, "exposed." Our cadre was concerned, and this writer more than the rest. Between the swirling snow, wind and then lightning strikes, we were stopped in our tracks. At first we decided to hunker down in what little shelter there was and try to wait out the storm, but then we second guessed that strategy and made a run for it back down the mountain. This writer took the lead and his full-speed descent with trekking poles was described as "spider like." At one point we saw lightening strike below us. Another strike set a forest fire in the valley below us, and we saw smoke rising from an area we estimated to be above Cienega Mirth and Second Falls (it was still burning the following day as we hiked out).
"CAN LIGHTNING FIND ME HERE?"
We made it back to Sam Mack Meadow in relative calm and had lunch in a stand of trees which provided shelter from the wind. We used Charles' NEW Esbit Stove to heat some coffee, which went well with some lemon pepper chocolate brought by Andrei. By the time we finished lunch, the skies had cleared. Rather than turning back to our camp at Fifth Lake, we decided to start a second attempt to reach the Palisade Glacier at 3:00. Apparently the call of the trail was too loud to ignore. After we'd climbed about 500 feet, however, the clouds reappeared – they came over the Palisades quickly, as there isn't much warning when you are in a high-altitude basin in the Sierras. Given the returning clouds, the late time of day, and the prospect of more lightning, we once again retreated down into the shadows of the North Palisade. We were not alone in our defeat; two other groups of hikers had also abandoned their efforts to reach the glacier. We also came across a third group who had started their hike earlier than ours and had been able to reach the glacier, but they described "white out" conditions. We were at peace with our decision to give up the quest, and vowed to return to the glacier on another day.
BACK AT SAM MACK MEADOW – THE WATER FROM THIS STREAM TASTES AMAZING
LUNCH AT OUR SAM MACK ENCLAVE
THE ESBIT STOVE IN ALL ITS GLORY – IN JUST 30 MINUTES AND AFTER BURNING THROUGH THREE CUBES OF SOLID FUEL, THE WATER WAS ALMOST WARM!
ANDREI AND STEVE OBSERVE THE SMOKE RISING FROM THE FIRE CAUSED BY THE LIGHTNING STRIKE 

BELOW

US
LOOKING UP AT THE PALISADES – I THINK THAT IS MT. SILL
We were all beat after our trek, so it was an early night back at camp. Apparently we were too tired to record ourfreeze dried meal, because there is no record in the log. Charles took some interesting time-lapse video using his iPhone.
CLOUDS OVER TWO EAGLE PEAK (TIME LAPSE VIDEO)
Day 4: Fifth Lake to Big Pine Creek Trailhead via Black Lake (7.1 miles, 3000 vertical feet loss, 4 hours)
The storm left as quickly as it had come, and we had nothing but blue skies for our hike out. We turned the hike into a semi-loop, taking a trail through the north side of the valley via Black Lake rather than retracing our steps to Third Lake, Second Lake and First Lake. This option gave us some welcome shade, and allowed us to look to the south and get a more distant view of the lakes and valley which had been our home for the prior three days.
THE EARLY MORNING ALPENGLOW AT FIFTH LAKE – MT. ROBINSON AND TWO EAGLE PEAK
ANDREI, AND ANDREI'S TENT
REFLECTIONS AT FIFTH LAKE
THIS PICTURE SHOWS THE SCALE OF TEMPLE CRAG, WHICH DWARFS FIRST LAKE AND SECOND LAKE BELOW. ONCE AGAIN THE MILKY GREEN COLOR OF THE GLACIAL-FED LAKES CAN BE SEEN.
THE TRAIL ALONG THE NORTH FORK
BACK AT LON CHANEY'S CABIN ON THE WAY OUT. LON WASN'T HOME.
As is usually the case, we stopped at the Pizza Factory in Lone Pine on our way out. The meal was excellent, as always. This time, Charles and Steve made a second stop at the Indian Wells Lodge next to the Indian Wells Brewing Company. The lounge had just been remodeled and was a very nice place to have a beer and reflect on the trip… and to start planning the next one.