ALL-HALIBUT 2012:  Leviathan

Catalina Island
Two Harbors to Little Harbor

May 4 – 6, 2012
Andrei, Charles, Rick, Steve
Now wait just a moment.  Why in the world are there pictures of Catalina on a website dedicated to backpacking the Sierras?  The answer, in a word, is "snow."  As in, "there is too much snow in the Sierras in May to go backpacking." Or perhaps the answer is "inpatient."  As in, "we are too impatient to wait until the summer to go backpacking in the Sierras."  Or maybe we just wanted to try something a little different.  Whatever the case, we decided to do a springtime backpacking trip rather than waiting until the summer.  After bouncing around a few ideas, we decided on Catalina.  And, because the entirety of the trip would be at or near sea level, Rick's altitude aversion didn't prevent him from joining the fun.  Even as this writer starts to document this trip some three months after the seafaring cadre returned to the mainland, he finds himself with one of those resigned smiles that he knows to mean "the trip was so much fun, and there's no way to capture it with words and pictures."  But he writes anyway.
Day 0:  The Pre-Trip
This writer and Charles decided to beat the traffic and arrive in Long Beach on Thursday night, rather than driving from San Diego and Ventura to catch the 8:00 a.m. ferry ride to Catalina.  The high jinx started immediately (if not earlier), as this writer and Charles made their way to the rendezvous point, the historical floating hotel known as the Queen Mary.  The antics would make no sense to anyone else, so suffice it to say we were well met.  After staying up entirely too late, having too many Crown Royals (in Cannonball's good name), and utterly and completely ruining the point of arriving ahead of time to capture more sleep, it was Steve and Charles who arrived at the ferry at the very last moment the following morning, well after Andrei and Rick had completed their commutes from Ventura and Valencia (excuse me – Santa Clarita). 
Day 1:  The ferry ride from Long Beach to Two Harbors via Avalon, followed by a hike across the Island from Two Harbors to Little Harbor (approx. 5 miles, and 3.75 hours at a leisurely pace)

Our harried arrival at the landing, with our group being literally the last to board the Catalina Express, was further complicated with respect to our plan for bringing propane with us.  Apparently propane is not allowed on the ferry, and those who bring it aboard are rewarded with a felony citation.  So, as the ferry pulled away from Long Beach, our propane stayed ashore.  We had rehearsed saying "no, there is no propane in my backpack," but apparently that was not meant to be.  For our honesty in turning over the illicit camp fuel, we were rewarded with a rich bounty of good karma that lasted the entire trip, and gave us some good laughs as well.
A QUICK FERRY STOP AT AVALON, THEN ON TO TWO HARBORS
ANDREI, CHARLES, AND NO PROPANE
The channel crossing took about 45 minutes from Long Beach to Avalon, and from there another 20 minutes or so to Two Harbors.  None of us had been to Two Harbors before, and we were all pleasantly surprised by this small port town.  And town is probably too robust a word.  Perhaps it was the pleasant weather, the camaraderie of being with friends we don't see often enough, the fresh sea air, our fine brunch sitting outside, or the numerous pleasant island inhabitants, but whatever it was, we were all in good spirits as we made our final preparations for the hike (which included visiting the general store to buy some propane).  It was at this time that we noticed something a little "different" about Rick's backpack.  It weighed 60 pounds if it weighed an ounce.  It made the rest of our packs feel like they were filled with feathers and helium balloons.  This writer picked up the pack a few times and just set it back down, speechless.  Rick coyly said he had a surprise for us, and after that he clammed up.  No hints, no discussion, and perhaps most amazingly, not a word of complaint about carrying that terrific weight across the island.  Not so much as  a peep.  This writer is here to say that he simply could not have managed that heavy a pack, and his hat is off to Rick for shouldering such a load without complaint.  We knew Rick had been on other Sierra trips with us and knows how to pack a bag… so the tremendous weight wasn't a result of inexperience, but rather an intentional sufferance for the benefit of the group.  And we were all eager to know what surprise was hidden in the pack (this writer assumed it was a jet ski)
RICK AND ANDREI ENJOY A FINE BRUNCH AT TWO HARBORS
OUR GROUP, AS PHOTOGRAPHED BY ONE OF THE PLEASANT TWO HARBORS INHABITANTS
LOOKING BACK TOWARDS TWO HARBORS
CHARLES PHOTOGRAPHS RICK NEAR THE WILD FLOWERS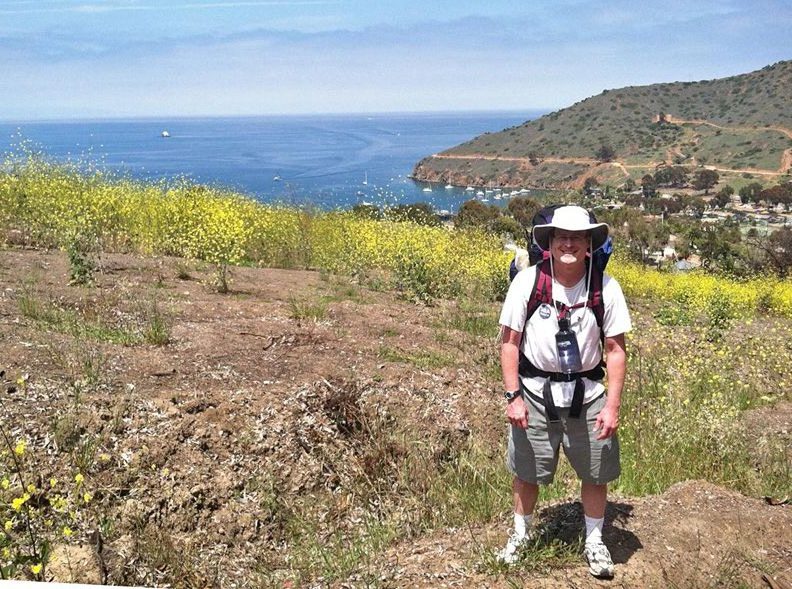 CHARLES PHOTOGRAPHS ANDREI NEAR THE WILD FLOWERS
CHARLES PHOTOGRAPHS STEVE NEAR THE WILDFLOWERS
LOOKING ACROSS AT CATALINA HARBOR
Quick geography lesson. Two Harbors is apparently called Two Harbors because both Two Harbors and Catalina Harbor are within half (or maybe a quarter) mile of each other. Two Harbors and Catalina Harbor nearly cleave the island in two, with Two Harbors facing the mainland and opening into the channel, while Catalina Harbor faces west and opens into the Pacific. In nautical terms, Catalina Harbor is on this windward side, and Two Harbors is on the leeward side. I think so, anyway – what do I know… I am out of my Sierran element.
CHARLES AND ANDREI FIND AN ABANDONED JEEP OFF THE TRAIL. CLEARLY WE ARE IN AN EPISODE OF "LOST"
ALONG THE TRANS-CATALINA TRAIL
The hike itself was not particularly technical, although there were a few steep points (as in the picture above) that tested this writer's knees and feet. We were rewarded with expansive views of the island's interior, which for some reason reminded us all of Jurassic Park (although we saw no dinosaurs) and also views of the Pacific, which was a treat for hikers accustomed to the scenery of the Sierras.
STEVE MOVES INTO THIRD PLACE
THE NORTHWESTERN FACE OF THE ISLAND
WHAT DO WE DO AT THE END OF THE TRAIL… JUMP?
The altitude map of our hike would look like an upside down "V." Which is to say the first half of the hike involved a steady climb, and the second half of the hike involved a steady descent. Nothing too difficult, but a respectable hike in its own right. We spent 3 hours and 45 minutes on the hike, but a lot of that time was spent on photography and taking in the scenery; we made the same return hike in 2 hours and 45 minutes.
DESCENDING TOWARDS LITTLE HARBOR
EVEN CLOSER TO LITTLE HARBOR
This photo shows this writer's newest piece of gear – a super lightweight backpack: the Osprey Exos 58. The empty pack weighed under 3 pounds, which shaves a good 4 pound off his "usual" backpack. The pack was terrific for this trip, but this writer has concerns that he may not be disciplined enough to use it on a Sierran trip, as he can't see shaving enough volume when adding additional clothes, food, and a bear canister that would be required for a trip into the backwoods. We'll see.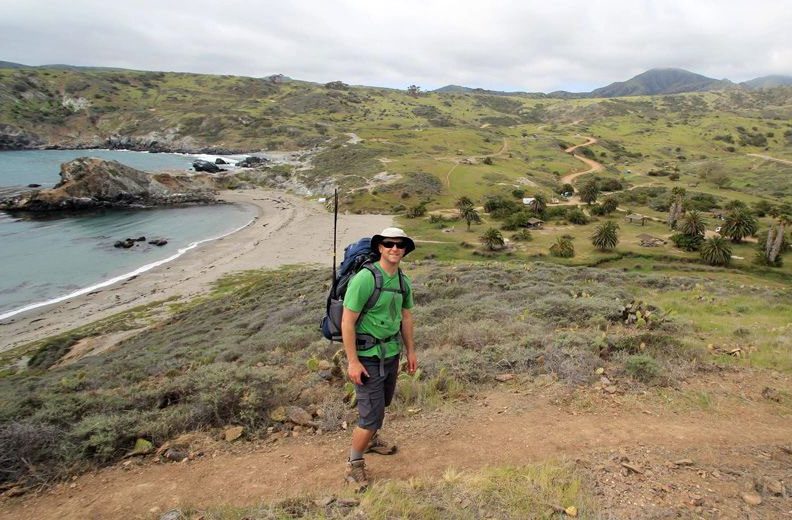 This writer can't say enough about how cool Little Harbor campground is. The palm trees and grassy area to the left of Charles in the above picture are the campground. To the right of Charles is a nice sandy beach and Little Harbor. The rock promontory (called Whale's Tail because of its shape when seen from above) is bigger than it looks in this picture, and is a great place to climb up and survey the harbor and the campground, or watch a sunset. Just beyond Whale's Tail is Shark Harbor.
Upon our arrival, Rick opened his pack and shared its secrets with us. We watched in awe as Rick pulled an entire gourmet food store out of his pack, and it was only half way into the unveiling when we began to drool. We are, after all, familiar with Sierran backpacking trips. So we brought the usual fare, and had planned such gourmet meals as "Freeze Dried Beef Stroganoff" for dinner, "Instant Oatmeal" for breakfast, and other provender suitable for the dry trails of the Sierras. Rick, on the other hand, went Beverly Hills on us. As in, the Beverly Hills Cheese Store. The spread could have been the same fare served at the coronation of France's King Louis XIV on May 14, 1643; we may never know. His offering included various cheeses: Camembert cheese from Normandy, a triple-cream brie gorgonzola from Germany, 18-month cave-aged compte from the caves of Croatia (this writer now insists that all of his cheese is cave-aged), clochette semi-soft bell-shaped goat's milk cheese from France, and another sheep's milk hard cheese of unspecified origin; two aged meats in the form of Creminella (a spicy Italian-style un-cured salami from Salt Lake City) and prosciutto di parma; and a three-foot french baguette (not sure where that was hiding). Understanding of course that we could not eat like nobility unless we savored the victuals with wine, Rick had hidden somewhere in his backpack a three (three!) liter box of old-vine Zinfandel, itself having scored 95 points at the 2010 California State Fair. A few moments' rumination over pertinent weights and measures suggested Rick had carried over six pounds of wine alone. And in addition to the lunch spread and the wine, Rick had also taken care of us for the following morning's breakfast. The freeze-dried oatmeal, it seemed, would not be needed. Rick had brought the fixings for breakfast burritos, including eggs, chorizo, an onion, a glass jar of salsa, and tortillas. Not sure what was more impressive, that he carried the weight or that he had room in his backpack (which involved placing all of these foods into a cooler, and packing it with a few pounds of dry ice). In any case, we sat and enjoyed the spread for probably an hour, if not more, taking in all the foods and flavors, the pleasant weather and our surroundings at Little Harbor, and each other's company. We also enjoyed some freeze-dried mango contributed by Charles, which was an excellent cap to the rest of Rick's treasures.
RICK EXPLAINS THE DIFFERENCE BETWEEN A CAMEMBERT AND A BRIE
LITTLE HARBOR CAMPGROUND AS SEEN FROM THE WHALE'S TALE
After we had been plied with gourmet food and wine, we decided to try out the kayaks, which we had rented in advance and which had been left for us on the beach. Rick chose to survey the area by climbing atop the Whale's Tail, where he took the above picture of the campground and the two below pictures of us kayaking. Andre is not photographed, as his kayak stint took him further away from the Whale's Tail, while Charles and I stuck close to search for halibut. Charles did find success, but he let the halibut go as it was a hair on the small side. Perhaps as a reward for letting the young halibut go, the ocean treated us to quite an exciting halibut adventure the following day.
CHARLES FISHES WHILE STEVE… WELL, STEVE DOESN'T DO MUCH OF ANYTHING
CHARLES CONTINUES TO FISH, STEVE CONTINUES TO NOT DO MUCH OF ANYTHING
STEVE MUST HAVE MADE AN INTELLIGENT AND WITTY COMMENT ABOUT THE SIZE OF THE SEAWEED
The Whale's Tail is in the background of the above photo, but it is somehow even larger than it looks in the photo. For a little scale, you can make out a lawn chair that someone had left atop the promontory.
After we returned the kayaks to shore, Charles began surf fishing, where he quite handily caught and released two surf perch. We had all seen a dead seal along the shoreline, and this writer thought it made perfect sense to cut some fat or meat off the creature and use it as bait to catch another halibut. In his mind's eye, this writer saw himself as an intrepid seafaring lad who had become shipwrecked on a deserted isle, and had to use his own ingenuity to catch fish that would provide his companions sustenance. He quite logically used his vast knowledge of fishing (which in actuality is limited only to trout fishing and has nothing to do with halibut, seals or the oceans) to conclude that resecting a rectangular strip of flesh from the dead seal would be rather easy and would be just the thing to catch a halibut the size of a Volkswagen. As is often the case when the mind's eye is involved, the reality did not follow the plan. This writer first observed that seals (presumably both the living kind as well as the dead kind) are not easy to cut. They are thick-skinned, as it were. Undaunted by this minor inconvenience, this writer continued to work his blade (itself a token of appreciation given to the groomsmen at Andrei's wedding some 15-ish years prior) into the seal. After some time, the seal's skin finally yielded and the knife went through the various cutaneous layers. At once, the sound of rushing air could be heard, perhaps similar to a very large person exhaling at moderate pace. It was unexpected, and this writer's eyebrows must have gone up a bit. Surprise quickly gave way to disgust, and then perhaps even fear; the seal must have been dead longer than we'd thought, as that rush of air brought with it a most putrid and fetid stench that must have accompanied decomposition. In light of the invisible cloud of death-stench, the attempt of removing fish bait from the seal was immediately and permanently abandoned, and the seal was left to rest in peace.
IT MADE PERFECT SENSE TO THIS WRITER
CHARLES FISHES AS DUSK ARRIVES
That evening, we did eat some freeze-dried food, although we didn't eat too much of it as we were still doing well after the late-afternoon spread. We mixed with the neighbors a bit (campers who had taken a bus to the campground rather than walking it as we did, and as a result had things like Coleman stoves, ice chests with beer, large tents, and charcoal), and then took an amazing night hike. Rick opted out of the night hike, choosing instead to retire early (carrying such a heavy pack during the day no doubt contributed to his fatigue). He ended up falling fast asleep on Charles' deluxe sleeping pad, which was hilarious to Andrei and this writer, and perhaps not so funny to Charles (who made Rick move). As for the night hike, it was amazing (as was everything else about this trip). We used only the light of the moon as we walked "inland" through the campground and then to the south, where we turned back to the coast and emerged at Shark Harbor. We climbed down to the shore, then along the rocky shore and finally back to the Whale's Tail and finally to our campground. With the perfect weather and the sound of the surf as we walked under the light of the moon, this hike could not have been any more enjoyable.
A REUNION OF 20-YEAR OLD TENTS
This writer will pause for a nostalgia moment, to point out that his tent (on the left) and Andrei's tent (on the right) have been used on their various backpacking trips going back to 1991 or thereabouts – all of which will someday be documented on this website. These tents aren't used much any more, as we usually use (newer) three-man tents, but here they were, reunited under the Pacific sun.
Every campsite at Little Harbor comes with its own patio, and this was ours. Our site is usually used as a group site, so we had plenty of room (we each had our own table, which was probably excessive). It was here that we set about making chorizo burritos, and they were every bit as good as we could have imagined. In addition to the onion, chorizo, salsa and eggs, we added the remnants of our cheese spread (some of it cave-aged). As seemed to be the theme of this trip, everything came out perfectly.
OUR CAMPSITE AND THE BEACH BEYOND
As we ate our fine breakfast, we discussed whether we should day-hike inland towards the island's pine-forested high point, or return to the kayaks and explore the island by sea. The lure of the sea was too great, so we opted out of the hiking and decided to pack a lunch and set sail. Or set oar, rather. Thor Heyerdahl had nothing on us.
PREPARING TO LEAVE FOR THE KAYAK VOYAGE, AND A TOAST TO OUR GOOD FORTUNE
We paddled to the south quite a ways, observing Sentinel Rock and Indian Head Rock, both noteworthy promontories. We considered landing for lunch in Cottonwood Bay and points beyond, but the pounding surf prohibited it (at one point we were actually waved off by a concerned diner who was having a picnic lunch at one of the bays we were exploring). We ended up working our way back up the coast and stopped for lunch at Shark Harbor, just short of Little Harbor (they are almost one and the same). Here we added mayo packets and spices to pouches of tuna, which we then spread on seaweed to make sushi rolls (of a sort).
LUNCH AT SHARK HARBOR, TAKE 2
After our ocean voyage, Charles and Rick returned to the campground to convalesce and Charles and this writer returned to the sea to go after more halibut. Or, more accurately, Charles was going to "go after more halibut" and this writer was going to "go after more sitting around." The excitement, and antics, that followed will never be forgotten by this writer. After some time, Charles' fishing rod was hit and was hit hard by something – something big. We assume this particular halibut was the size of a trash can lid, or maybe even a smallish coffee table. We knew it was big because it was quite literally pulling us around in the kayak, from one side of Little Harbor to the other, repeatedly back and forth. This writer did his best to keep the kayak aligned so that Charles had the best chance at landing the leviathan, and during the entirety of this 20-minute battle both this writer and Charles cackled at the ordeal. There we were, in a kayak, getting pulled all over the harbor like Santiago in Hemingway's The Old Man and the Sea (Charles plays the part of the Old Man). Charles would do his best to make some headway on the beast by reeling in his line as the fish rested, but then it would shoot off again and Charles' reel fed out line with that loud whizzing sound that indicates "the fish is taking your line fast." It was an exciting and hard fought battle, but ultimately the halibut prevailed. All at once, Charles' line went slack. He reeled it in and examined the end, which was tightly curled and revealed the knot had slipped. The fish had won, but our disappointment in losing the goliath was short lived as we realized what a fun time we'd just had. And on top of that, our success in the shoal of halibut was not yet over. We resumed fishing and to our great joy, Charles was able to extract a keeper-size halibut from the depths of the bay.
We had no net to land the halibut, so we beached the kayak and Charles pulled the fish to shore. After losing the big fish, we were glad to catch one of legal size – we would not be eating freeze-dried food for dinner this night. We dropped the halibut off with Andrei and Charles, and Andrei used his iPhone to do a little research on the best way to clean a halibut (which is nothing at all like gutting a trout). Without a lancet in sight, Andrei used his superior medical training to prepare the halibut in excellent fashion, yielding the following steaks.
As Rick and Andrei dealt with the fish, Charles and this writer returned to the sea in search of more halibut. While we didn't catch any more of the flounders, we did catch a scorpion fish, which presented us with a problem. Scorpion fish, Charles explained, have poisonous barbs. And we had no equipment to remove the scorpion fish from our hook. No pliers, no gloves, no net, no nothing. Just a fish hanging on the line, wiggling as they do. In retrospect, we could have cut the line rather easily and been on our way with a new hook. Instead, this intrepid writer, in his mind's eye, would handily unhook the scorpion fish by grabbing the hook with his fingers and twisting it out. Once again, the mind's eye and reality were not meant to meet. As this writer reached towards the hook, the scorpion fish (quite predictably, actually) flipped and/or flopped and stuck a very small portion of one of its quills into this writer's finger. At least the fish had the courtesy to drop off the hook, so at least the task was completed. So we paddled on quietly while Charles fished. He intermittently explained to me, in a sheepish tone, how poisonous scorpion fish can be. I understandably preferred not to continue talking about my potential demise, so I politely replied "can we please talk about something else." After 15 minutes or so of relative quiet, and without any convulsing or swelling or loss of consciousness on my part, we decided that I had not, in fact, been subjected to any kind of neurotropic poison and that my finger (and the rest of me) would live to fish another day. Our spirits lifted, we fished, our banter returned, and we returned to camp – heroes for having battled the leviathan and for having landed our dinner.
We cooked the halibut and after having our fill we shared the leftovers with neighboring campers (who in turn shared with us some carne asada and some chicken barbecued with some kind of Middle Eastern spices). After that, Rick pulled yet another surprise from his backpack: a glow-in-the-dark frisbee powered by LED lights. We had a great time with that little gem, floating it across the grass-covered expanse of the campground under the moonlight. It perfomed well and was extremely bright – quite playable and not just a gimmick. The four of us stood rather far apart, in the darkness, and quietly played frisbee for most of an hour. Barefooted, with the grass under our feet and the sound of the waves nearby, it was yet another of the perfect experiences this trip had to offer.
We repeated our night hike from the night before, this time taking Rick along with us. Again we were guided by the light of the moon, which was actually a "super moon" event that had made the news for its unexampled brightness. We lay in our tents that night and reflected on how great the trip had been, and fell asleep completely contented – how could we not be?
Day 3: Little Harbor to Two Harbors (approx. 5 miles; 2.75 hours)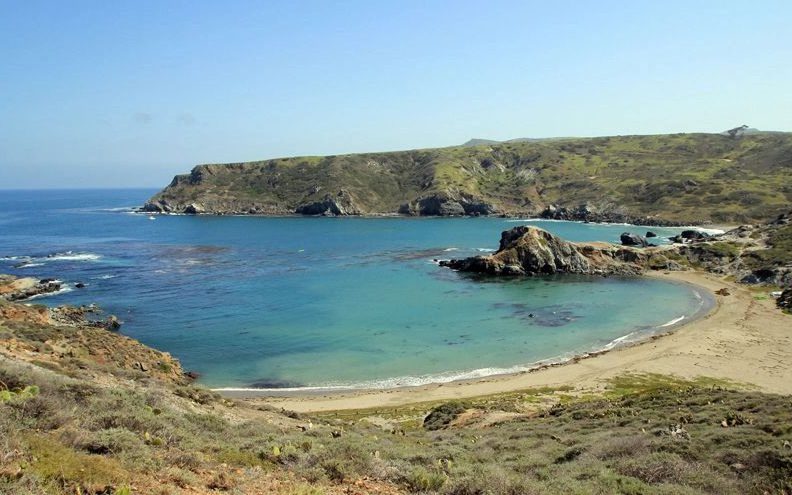 We took fewer pictures on the way back, and carried fewer boxes of wine, so our hike back to Two Harbors took less than three hours. While we waited for our ferry ride home, we had plenty time for a bison burger in the welcome shade under the patio at the restaurant in Two Harbors, where we toasted a trip that exceeded our expectations in every regard and was nothing less than perfection itself. It is this writer's hope that this springtime jaunt set the stage for further early season (pre-Sierra) treks, all at low altitudes so we can convince Rick to join us. His attendance is important, after all, as he is the one who carries the smorgasbord.